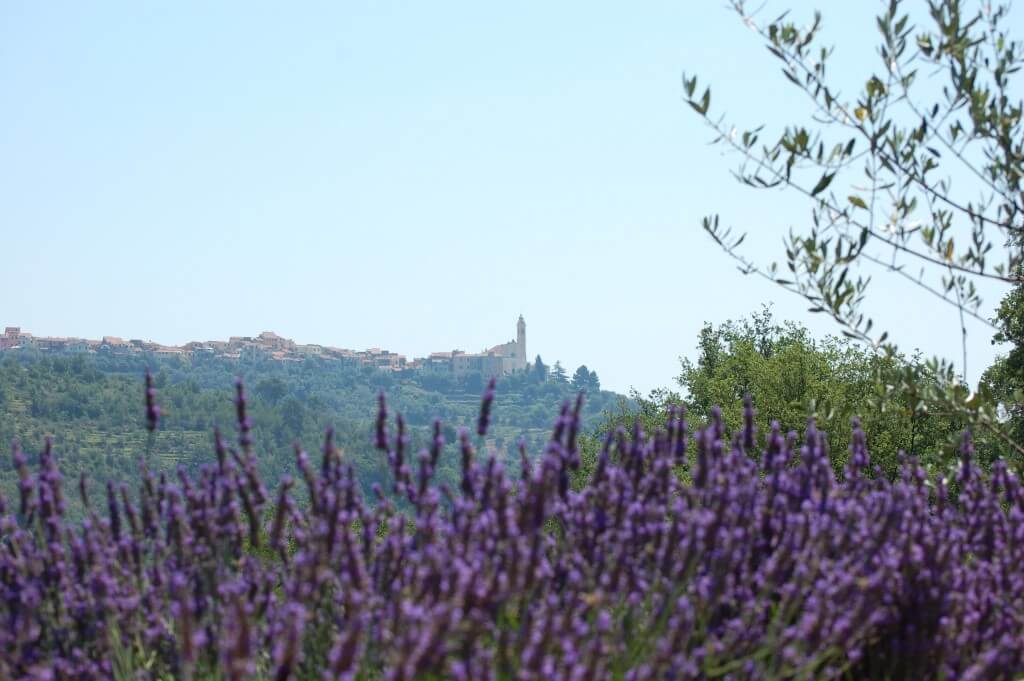 <iframe src="https://www.google.com/maps/d/u/0/embed?mid=1R9NKUVxJRaoFh6270T0K-OslWPE" width="640" height="480"></iframe>
Duration: 1 hour and 30′
Difficulty: T
Elevation gain: 100 meters
From the large municipal car park in Civezza go up quickly in Piazza Guglielmo Marconi (the old square "of the pila" and of the public fountain) and, through the long Via Dante, reaching the tower-house "of Rivello" (or "of the Swiss") in Piazza Venezia, one of the five late medieval defensive bastions still preserved that were used by population during the time of turkish-barbaresque landings and attacks (centries XVI-XVII).

From here continue along the steep climb up to meet a late Baroque votive shrine placed immediately out of the historical center (the little chapel "of Sbalanche"), close to which is grafted an old mule track – cemented only in the first section – that goes down the terraces below the village. Continue through olive groves, forests of oaks and rough terrains uncultivated until reaching a bifurcation (after about 50 minutes), passing it and follow the direction indicated by a trail marker with three symbols squares colored on the right.
Learn more
Here

the path

remains

barely visible

and recognizable

, and

the ground

becomes a little

rough

,

however,

only

for a short distance

;

we move

in the low

Mediterranean scrub

, made of mastic shrubs and

rock rose and

, at the end of the steep climb,

continue on left

going back

on a

mule track that

runs through

forests of

Aleppo pines

or

downy oaks

.
There are of course any possible alternative directions; no marked trails leading towards less known places, outside major muletracks that, however, reserve unexpected surprises for those still wish to meet uncorrupted sceneries from the point of view of landscape and nature. There are detours that bring even lower, to the shore of San Lorenzo river – or, better, what throughout the Middle Ages was called the river of Civezza (the "aqua Civecie") – and from there to the mill of Dolca (or "of Dolces") and Torre Paponi or, still higher, towards the confluence of the Tana and Bodo rivers (the "morga"), from where it is even possible going within, into the secret heart of the Valley, towards the magnificent pools of Lagoscuro, a natural heritage to be preserved, loved and respected, which reveals himself just for hikers and mountain bikers.
Apart from the possible detours, our mule track continues going up to the level curves and finally crossing the provincial road, from where walking right into a small path that leads directly under the wide artificial terrace on which stands the monumental Baroque religious pole of Civezza, composed by the parish church of St. Mark and the adjacent confraternal oratory of St. John (XVIII century); whilst, by turning right, it is possible to make a new detour and reaching the mule track located near the oratory of St. Saviour and, from there, going to the coast and village of San Lorenzo al Mare through the trail of " Via della Costa ".