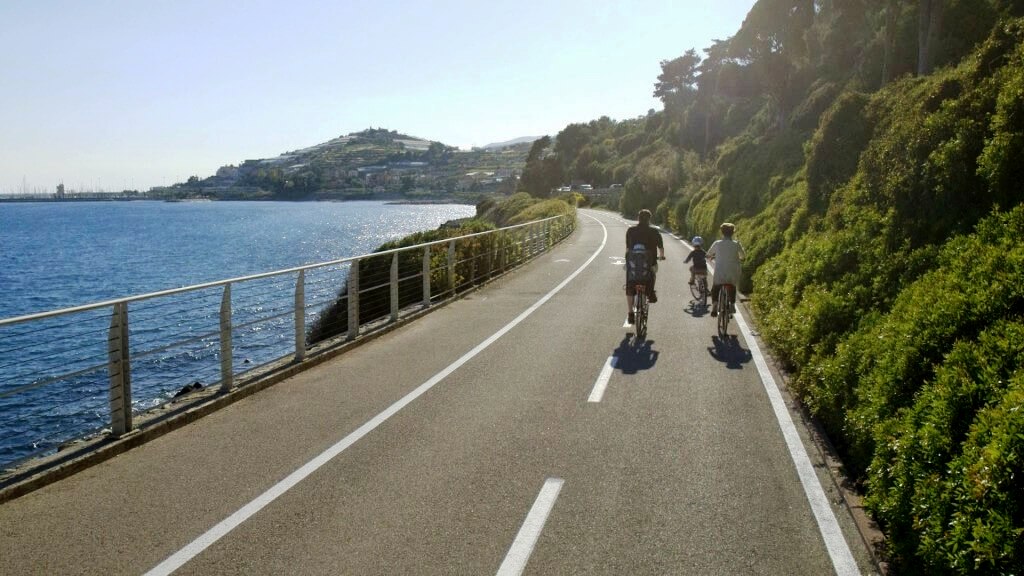 San Lorenzo al Mare - Aregai di Cipressa (Pista Ciclabile)
<iframe src="https://www.google.com/maps/d/embed?mid=1hxgbPb8Vsfpn3O3vo61pQj2E6_c" width="640" height="480"></iframe>
Tempo di percorrenza: 1 hour and 30′
Difficoltà: T
Dislivello: 0 meters
The cycle and pedestrian path (la Bike Path)  obtained in recent years on the site of the old route of the railway, which from San Lorenzo al Mare-Cipressa railway station, comes up to Ospedaletti, offers interesting opportunities for coastal link between the paths that lead from the coast towards the villages of the immediate hinterland and contribute numerous circular routes that arise outside of the main driveways.
The route starts from the new port of San Lorenzo al Mare and along the marina and beaches that follow protected by Mediterranean vegetation, it is inserted directly in the path of one of the longest and most evocative cycle and pedestrian paths in Europe that starts and It crosses over 3 km of the coast of the valley.
Learn more
The path will lead us well below the former hospital sanatorium "Giuseppe Barellai", a small jewel of rationalist architecture of fascist era that protects and still guards the coast of Piani Paorelli Paini and Costarainera, where we will meet and we will cross a railway tunnel about 1500 m. long, coming back close to the sea, but in the municipality of Cipressa.
Walking along the lanes dedicated to this magnificent track we will always admire the sea, its colors and fragrances of the Mediterranean vegetation that surrounds us at every turn: the supralittoral plants, such as critmo and maritime cineraria, and plants of the maquis coast, such as myrtle, rosemary or exotic plants well adapted to the mild climate of the place, such as agaves and aloes. That's not all.
This gentle and relaxing walk in the healthy climate and sunny weather of Riviera will allow us to reach Aregai (in the Middle Ages the beach "of the Drowned" in the local dialect "of Anegai") and the "Marbles Tower" – thus the border with the municipality of Santo Stefano al Mare – and, above all, to admire under the water swaying prairies of oceanic posidonia and, for those who have a good eye, patience and luck, even spot some bottlenose dolphins jumping or the breath of a whale silhouetted against 'horizon, while the cormorants drying on the rocks.