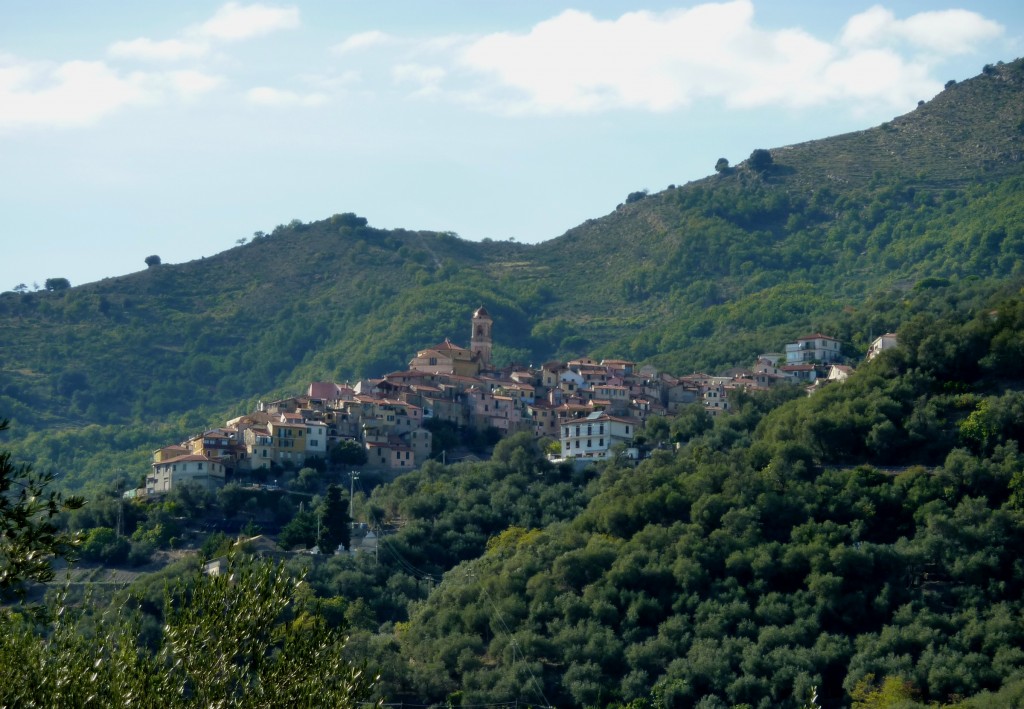 <iframe src="https://www.google.com/maps/d/embed?mid=1dDvrMA6sF1b2ZDBw2xDmmU_HbLs" width="640" height="480"></iframe>
Tempo di percorrenza: 1 hour and 15'
Difficoltà: T/E
Dislivello: 100 meters
At Boscomare let's start from the little parking near the bus shelter, in Via Provinciale, and continue on the right for about 200 meters along the road until you reach the entrance of the large parking of the village, the site of festivals and a time of  "handball" challenges (the "pallapugno"); here it begins a steep road that goes down to the cemetery and the site of the ancient church of Sainy Syrus (XV-XVI centuries), the old parish of the village, winding through terraces of olive trees and Mediterranean vegetation with thyme, cistus, mastic and a wood of oaks.
After about a dozen meters turn left making a sharp bend that leads us once again of a cemented muletrack, which continues up to a private home of a salmon pink color. Here turn left and go through a wood of hornbeams and oaks that, very often, leaving space for growth of brambles and shrubs as waste breeches, ivy or wild asparagus.
Learn more
After about 300 meters the path crosses a brook where the vegetation gives way to typical species of the most humid environments such as ivy and, climbed over the small river, keep left with panoramic
views over
perched village of Pietrabruna and the numerous greenhouses and campaigns planted with anemones and buttercups. Always keeping left arriving on a wider
mule track
after about 200 meters shrinks through an oak
wood.
After crossing the river again, it goes down towards a beautiful medieval bridge (XIII-XIV centuries), one of the numerous unexpected appearances of late-Romanesque populating the average Valley of San Lorenzo, and cross the river Tana; from here let's climbs up a steep and narrow mule track, which runs along the river towards the town of Pietrabruna (attention during periods of rain it can be very slippery), where it is not uncommon to observe puddles with tadpoles, ivy and moss.
After about 20 minutes, let's arrive on a wider concrete muletrack with views over anemones greenhouses, keep left and continue on a steep uphill for about 15 minutes, crossing the road that leads directly into the village.
Let's take and continue on Via Martiri and, through the dense narrow alleys of the historic center, arriving initially in Via Duomo, where stands the neoclassical bulk of the parish church of Saints Matthew the Evangelist and Gregory the Great (1844), and from there, across the square of the Holy Annunziata oratory (early XVII cent.), Piazza Parolari, reach in Piazza Giovanni XXIII, from which go on to other routes (Follia Mountain, San Salvatore Mountain and Seven Fountains Mountain).